Services Available at Schwartzenberger Equine
For over 30 years, the Schwartzenbergers have been breeding, training and showing top level performance horses and coaching Youth and Non Pro riders. Steve and Dori are involved in various aspects of the reining horse industry. Both are licensed NRHA judges and Steve continues to be a practicing veterinarian. Their experience in breeding, training, judging, showing, coaching, animal nutrition, and veterinarian skills creates a positive and unique environment for horse and rider to excel.
Training
Schwartzenberger Equine specializes in training and finishing top level reining horses. The training program is focused on creating a partnership and trust between horse and rider. Each horse is treated as an individual and every effort is made to bring out their unique talents and abilities in an environment that fosters trust and builds confidence. This approach creates a solid foundation for the horse that creates a willing "can do" attitude that manifests itself in the way the horse carries itself and performs.
Showing
Schwartzenberger Equine focuses on showing futurity and aged event horses. Improve your horses marketability with a successful show record and provide a positive show experience for your horse that you can count on for years to come.
Non Pro Coaching
Schwartzenberger Equine offers one of the top Non Pro programs in the region. Whether you are a novice rider or an experienced non pro, Schwartzenberger Equine will help improve your performance in the show pen. They are able to draw on their vast level of experience and knowledge to provide non pros with the tools and understanding necessary to succeed in the show pen including showmanship skills, horsemanship skills, perfecting the pattern, and mental strength in the show pen.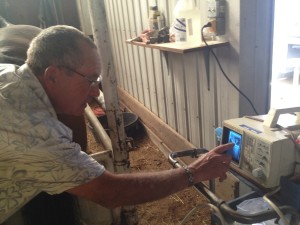 Veterinary Services
Steve is a licensed and practicing veterinarian. He provides the following services at their facility in Longmont:
Stallion Services
Stallion Collection
On Site and/or shipped semen capabilities
Mare Services
Artificial Insemination
On Site Breeding
Transported (received semen) – Coordinating receiving of cooled and frozen semen from stallions throughout the USA
Embryo Transfers- Donor mare management, recipient mares
Mare Ultrasound
Foaling Services and Post Foaling Care-Foal Alert System, large clean in-door foaling stalls, foal halter breaking, daily pasture time (weather permitting)
Rehabilitation Services
VersaTron Shock Wave Therapy : "VersaTron® generates the highest peak pressure (energy) shock waves of any system and delivers to the largest focal volume – so it's the ideal system for treating orthopedic conditions. Energy is released as a shock wave at tissue interfaces where the density of the tissue or impedance of the sound waves changes. These changes of impedance occur where soft tissue, tendons, ligaments, cartilage, and bone meet. The energy released leads to a cellular reaction that causes the release of various proteins including BMP-2, eNOS, VEGF, and PCNA. Neovascularization takes place, leading to increased blood supply to the treated tissue, resulting in tissue regeneration in tendons, joints, and bone. VersaTron® allows for customized penetration depths up to 110 mm, deeper than any other device. So, you can tailor the treatment for a chronic wound, a suspensory ligament or a sore back. The 5 mm, 20 mm, 35 mm and 80 mm trodes allow shock waves to penetrate to different depths while various energy settings for each Trode allow further customization."
Please contact Schwartzenberger Equine for more information and prices regarding these services.
Clinics
Steve and Dori are available for reining clinics. They will work with you to create a program custom tailored to your specific needs focusing on show pen skills, pattern visualization, improving reining maneuvers, training exercises, keeping your horse fresh in the show pen, and so much more.
Judging
Dori and Steve are licensed NRHA judges. Dori is a member of the NRHA Judges Committee and a past chairman. She gives judging seminars in the U.S., Canada, and Europe. Please Contact Us about any questions you may have about seminars, clinics, or judging an event.